This particular review isn't about some designer collaboration, exciting new colorway, or material mixing with a shelf-life of less than a season. No, this review's about one man's first impressions of an original — the Filson Original Briefcase, to be exact.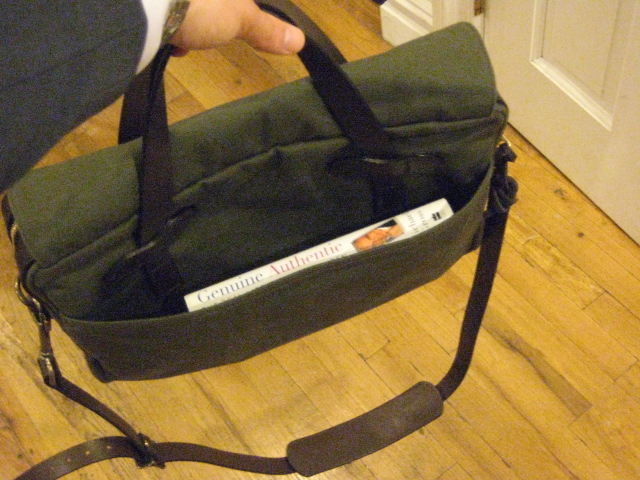 Ready to put the old Manhattan Portage Messenger aside for something more "grown-up," I recently set out to find a new briefcase for my finance gig in Manhattan. Supported by positive accounts from friends and colleagues, the Filson Original Briefcase fit my budget and personal style. So, I used one of The Beggar's own deals from Joe's Sporting Goods last week and took the plunge.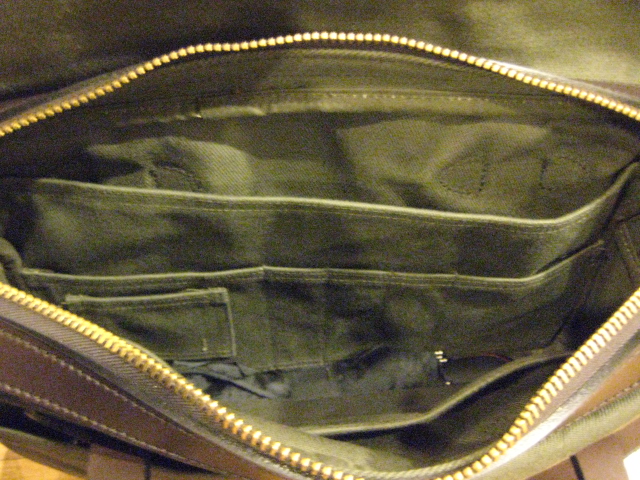 With its 100+ year history, "Might as Well Have the Best" motto, and a reputation for quality and durability — two attributes that never go out of style — Filson's brief had me hooked from the moment I laid eyes on it. Once it arrived on my doorstep, my expectations were met. Here's the quick and dirty:
Body: The 22 ounce twill and fabric oil finish construction is quite rugged, if not a bit heavy, and the olive twill to brown leather colors pop from all angles. With two large outer pockets and two smaller pockets on either end, it's easy to slip the morning WSJ or Times into the sides without hesitation or fumbling around with zippers. Though, if you need safer storage (see NYC subway), the middle compartment is slightly less accessible on the move. With a storm flap secured by a small leather tab and snap, the zippered section takes a bit more handling to get into. Once you pull back the flap, the two-way brass zippers with leather pulls, some of the most sturdy I've encountered, are easy to slide (much like the new L.L. Bean Signature canvas duffels). Inside, the bag has three compartments of equal size, one affixed with pen, calculator and business card pockets.
Handles & Accessories: The vegetable tanned bridle leather is a bit rigid at first, which is to be expected. Predictably, while the handles have quickly softened after a week of use, the shoulder strap still remains a bit unyielding. Additionally, when carrying the bag by just the handles, the strap hangs too low for my liking (even on the shortest notch), prompting me to couple it in my carrying hand with the handles instead of allowing it to drag on the city curb. At this point, I've rocked the bag sans strap for the last few days with more comfort. Lastly, the brass clip inside the front outer pocket has come in handy, allowing me to clip my keys instead of throwing them idly into the abyss of the middle compartment.
Despite any accessibility shortcomings, I know I've purchased a bag that will stand the test of time with its rugged construction, timeless style and a commitment to quality from an American company (if you're into buying local…I am) that guarantees its products for life. It's worth the investment, even without a Choosy Beggar discount.
Pictures and word courtesy of Kyle G. Shindler
—
—