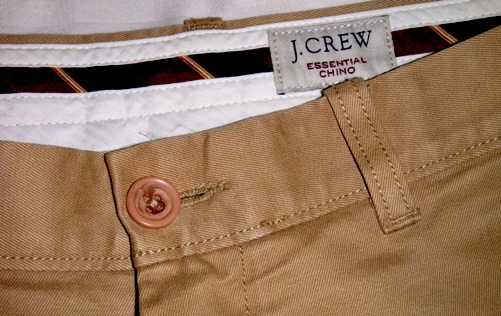 Goin' back to the khakis, this latest installment of "Hands On" is partially a reaction to the disconcertingly tight fit of those Dockers' ankle chinos for Urban Outfitters, which our pal Zeph reviewed earlier this month. There must be a happy medium between ballooning cubicle khakis and those circulation killers, we thought. Contributor Paul Khareyn set out to prove it.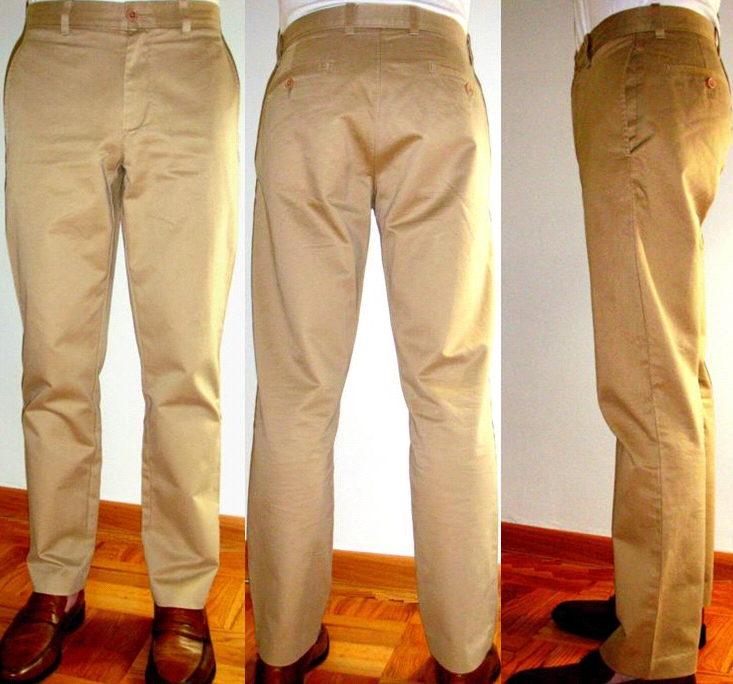 These days, most khakis sold by mass retailers like the GAP and Banana Republic resemble potato sacks with zippers and pockets. On the opposite side of the pendulum are leggings disguised as khakis (those Dockers for Urban Outfitters).
I've only recently begun to concentrate on fit and silhouette. I would say that clothing that's fitted, without being tight, looks great on most men, and gives them a more polished and refined look — they no longer look like big billowy creatures. I have had the unfortunate experience of purchasing some potato sack pants from the GAP that were huge, especially in the seat, which creates that sagging rear look.
Thankfully, J.Crew has designed a khaki that fills the void, and, just as important, at the reasonable price of $65.00. The khaki I'm referring to is the Essential Chino in Urban Slim Fit. The khaki is the ideal cut — not too tight, nor too loose. It's 100% brushed cotton with a medium rise, sitting slightly above the hip bones. The pockets are on seam; the fly closure is a zip fly with a button. (I would have preferred a tab closure as opposed to the button, but, well, beggars can't always be choosy.) The pants come in various lengths, from 26 to 36. The waist is true to size — I wear a 28 and got a 28, which fit well. I tried the 29, but it was too big. I would suggest sticking with the Khaki and British Khaki Color; the Graphite looks washed out and is prone to fading.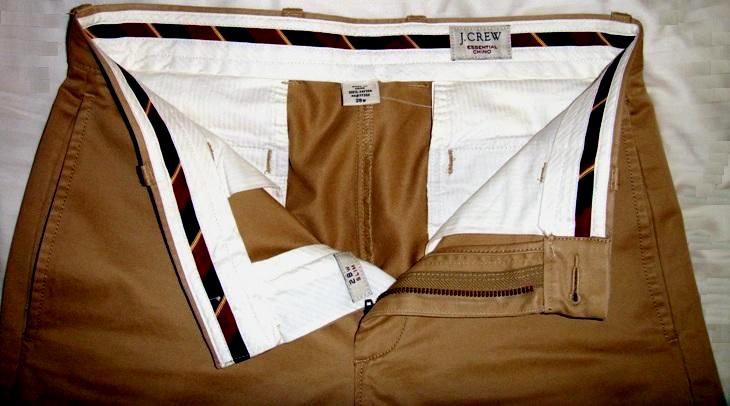 Overall, I'd say that this is a three season chino (summer, spring and fall). They're perfect for the office because of their clean silhouette, and, as they pair nicely with oxfords for work and on the weekend, they are a great substitute for denim and work nicely with a driving shoe. I am not sure they are dressy enough — due to the lack of a tab closure — for an evening clean cut and slim silhouette. Either way, I would strongly recommend these chinos.
Words and pictures by Paul Khareyn
—
—