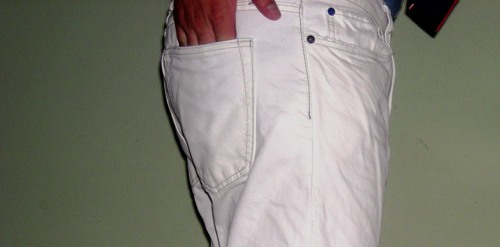 In late 2008, GAP got serious about denim. For proof, see ACL's ringing endorsement back in May. Obviously, in the wake of an unprecedented denim renaissance, there are many far superior jeans on the market. In a cost-to-quality comparison, however, GAP arguably deserves a place on the podium. Keeping it season appropriate, contributor and Men's Style 101 blogger Sam Timm takes a closer look at GAP's white straight fit.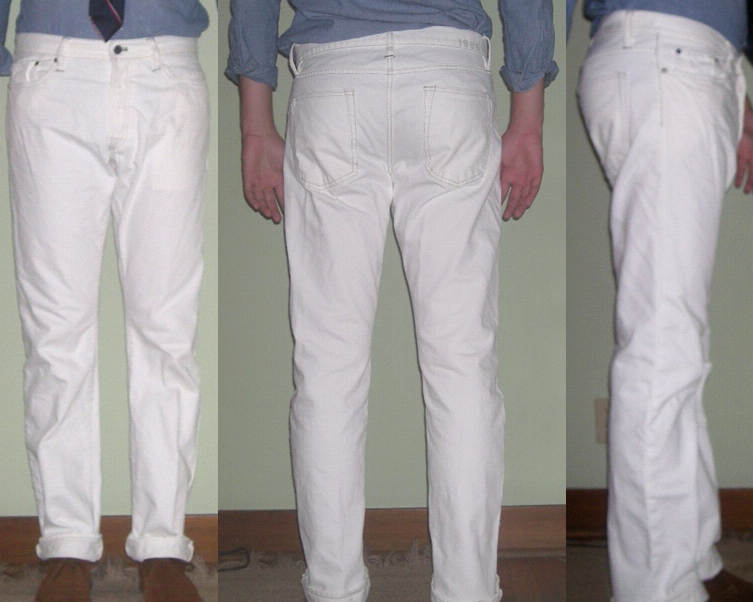 For those of you looking to pick up a great pair of white denim for the summer, look no further than a pair of $65 Straight Fit's from the Gap.  While some sartorialists say that white denim is acceptable year 'round, I still had a hard time justifying dropping over $100 on a pair of "summer jeans."
Gap's Straight Fit, currently on sale for $29.99, are consistent with the rest of the brand's quality denim at an affordable price point. Sitting low on the waist with a low rise, the fit of these pants is straight through the thigh and leg with a straight leg opening. The one drawback of the fit is the lack of a tapered leg opening. Still, compared to the fit of similar denim in this price range such as Levi's 511 and 514, I would say that Gap's straight fit falls perfectly between the two.
Those of you who are looking for a nice slim leg without being too "hipster skinny," will love the fit of these. The leg opening measures a little bit over five inches. The button-fly is a mark of their relative high quality. The jeans are also true to size, as my 34×34's fit perfectly.  Expect them to stretch about half an inch. I was pleasantly surprised with the softness of the denim and the lack of pre-washing and whiskers.
The slim fit of these jeans makes them a great summer pick to match up with a chambraoy shirt, polo, or a simple v-neck tee. Cuff 'em up an inch or two, show some ankle.  Rock them with a pair of boat shoes or desert boots.  Dress them up or down. Get them dirty and break them in, or keep them pristine and white. At $29.99, you can't beat them.
Pics and words by Sam Timm
Looking for some style inspiration? Emily Christenson, friend of The Beggar family and a member of The Outsider Folk Art Gallery, just sent in this painting by Jim Bloom for us all to enjoy. Thank you kindly, Emily!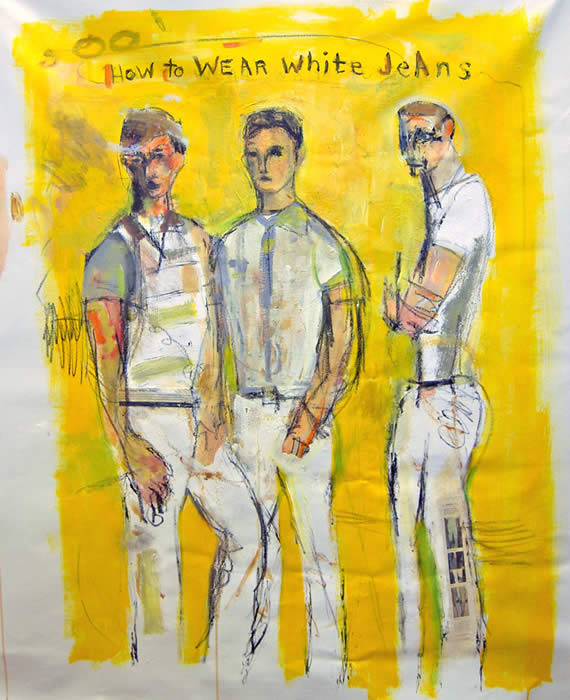 —
—