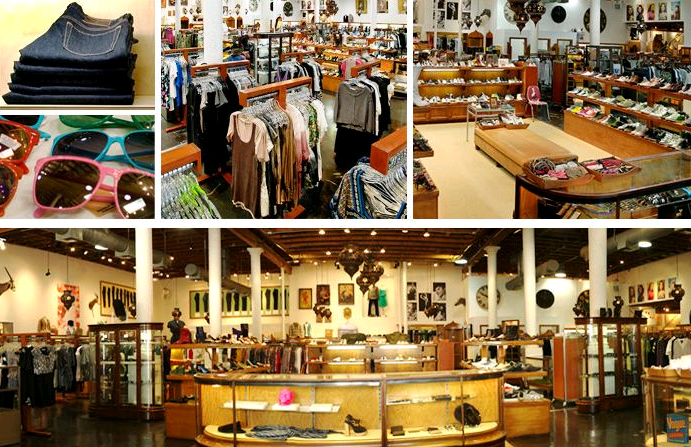 Meanwhile, in Los Angeles… "There sure are a lot of people in American Rag," writes L.A. Correspondent and Hans, Boobie blogger Conroy Gibson. "Did an office win a lottery pool or something?"
No, it seems that American Rag just made the inevitable move to 50% off the Spring/Summer stock from 30%. The jump happened yesterday, so the stock is pretty…umm…in stock, but don't expect it to last. With labels from the affordable (Obey, Stussy) to the ones that cost and arm and a leg (Comme des Garcons, Rick Owens, Bless), this sale will only cost you an arm (or a leg, whichever you think you'll use less).
Other labels that are on sale that will grant you the power of instant coolness include Chimala, Kitsune, KZO, Golden Goose, and Garbstore, among others. Summer is still here in LA, so grab a slubby t-shirt from Robert Geller for $38 – 48 (normally $76 – 96) or if you are feeling business casual you can go with an oxford button down from Canadian favorite Wings + Horns ($85) or Tim Hamilton ($112).
And you can finally get that floral short-sleeve shirt you've always wanted by Junya Watanabe Commes des Garcons for a (relatively) affordable $225. The adjoining World Denim Bar also has select items for 50% off. From a slim cut pair by Acne or Raf by Raf Simons to workwear-inspired raw denim by Gilded Age or LA-based The Stronghold, you are pretty much covered. If you have a hankering for some good ol' Japanese selvedge, grab some Sugar Canes or John Bull. Popular brands like Nudie and PRPS are also included, so stock up and hope you don't get fat (so you can still fit your jeans down the line. And for health purposes, I guess).
American Rag – 150 South La Brea Ave – L.A., CA – 323-935-3154 – Map
—
—