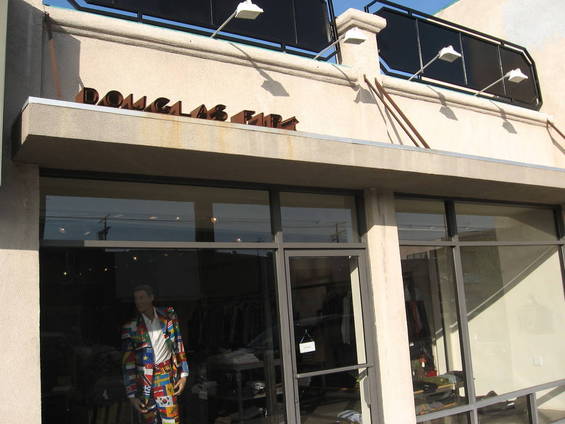 Meanwhile, in Los Angeles… What's goin' on over at Douglas Fir? Our L.A. Correspondent and Hans, Boobie blogger Conroy Gibson needed to know.
"A true gentleman's store," Gibson says of Douglas Fir. "You can walk in a slob and come out a man worth marrying….
The boutique made the move to 50% – 70% off S/S stock earlier this week. Because some days have passed, that pair of Kicking Mule Workshop denim you had your eye on might have found a new home, but it is still worth the trip for some deals.  Stocking labels that push quality and fit over trend include sale items from Stone Island, John Smedley, Hartford, and Sunny Sports out of Japan.  Take that beach trip (or Raging Waters excursion) in style with a pair of Apolis Activism by Katin swim trunks for $52 (normally $105) and set yourself apart from the Pacific Sunwear/Zumiez crowd.
Check out the new labels for the F/W season in while you are there, like the highly sought-after knits from Nigel Cabourn, slick threads from Maison Martin Margiela and accessories from the Hill-Side, like selvedge chambray ties and bandanas.
Douglas Fir – 8317 W 3rd St – L.A., CA – 323-651-5445 – Map
—
—