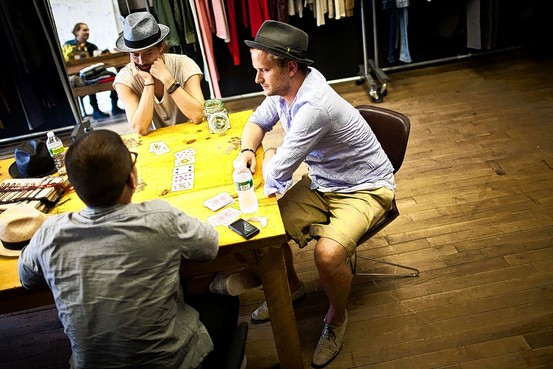 The Wall Street Journal gets designer Robert Geller to weigh in on the great shorts debate. For nicer occasions and (policy permitting) the office, "It's important that there's a certain weight and shape" to the shorts, Geller tells The Journal. He personally prefers cotton twill for its structure. "If the fabric is a little more drapey, then the shorts become more casual," he adds.
More dress short guidelines:
More often than not, shorts aren't office friendly.
They should be well-tailored and form-fitting without being tight.
They should generally end at the knee when standing. "It starts to look a little too beachy if it gets too short," Geller tells The Journal. (Personally, we suggest at least an inch above the knee — and we're not alone.)
Regarding color,  he says, "Stick to the classics," like black, gray or khaki.
For a relatively formal look, pair them with a well-fitted blazer that ends at the hip.
The jacket, says Geller, "shouldn't have too many details, like gold buttons or anything like that, or you're going to look like a captain."
The shorts and blazer shouldn't be in the same fabric, unless you want to "look like [you're wearing] a suit with the pants cut off."
Pair the jacket with a washed-cotton dress shirt. "You want to unbutton the top few buttons of the shirt" and leave it untucked to strike a balance between the casual style of the shorts and the formal feel of the blazer."
Avoid casual footwear like sandals, instead choosing "classic lace-up shoes" — But "nothing too shiny."
Never show sock — Either leave them at home, or wear them short enough to hide under your footwear.
—
—