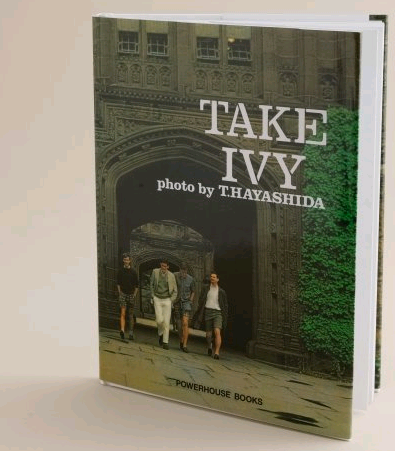 It's been a longtime coming for Take Ivy — the preppy style bible conceived in '65 by an Ivy League-obsessed Japanese photog. Over the years, the title has gained a strong following in the U.S., recently fetching upwards of $2,000 on eBay. Spearheaded by Wes Del Val, powerHouse Books in Brooklyn, NY is reissuing the book stateside (with English translations) on August 31. In anticipation of the big day, contributor — and Eating Everywhere editor-in-chief — Sam Jacobs caught up with Del Val to talk shop, style, and the future of prep.
Sam Jacobs
How did this opportunity come about for you?
Wes Del Val
Through sheer determination and a stroke of good luck.  I found the scanned images on  The Trad a year and a half/two years ago, and shortly after the (New York) Times did a piece on it. I kept it on my radar, but for some reason didn't jump on it right away. Time passed, I came across it again, and I thought, "This is a perfect Powerhouse book and now is the time for us to do it!"  It took about a month of late-night phone calls and e-mails to try to track down the rights-holder, Hachette Japan, which is a big company with many departments.  Little by little, my e-mails finally got to the rights-holder and she told me that yes, they were available, and to send her a proposal.
SJ
Thousands of copies have already been pre-ordered online, and J.Crew is even carrying it.  To what do you attribute its sudden popularity?
WDV
We thought maybe the first printing would be about 5,000, but it turned into 16,000 which sold out a month ago, and we're going to have a total of, after the second printing, 50,000+ in print.  It's niche and it's cult, and a lot of its popularity and success is a direct result of the bloggers. Had this come out 5 years ago, I don't think it would have been quite as big. This is largely thanks to the new media and the timing with the popularity of prep being so strong.
SJ
Do you see American prep style as yet another trend, or as a movement of Americans bringing back traditions in an effort to keep them this time?
WDV
It's an endurable trend.  It's timeless American style; and it will wax and wane like all styles do. We're in a period of popularity with it now – with J.Crew doing so well, and Ralph Lauren Rugby, of course still doing so well, and they're all pulling from the guys you see in Take Ivy.  That's what I meant by the timing being perfect.
SJ
Where do you think this whole American Made resurgence came from?
WDV
First of all it's a trend like any other and it will reach saturation and something else will get attention, but perhaps with the poor economy and people out of work it's kind of a "tied back to the land" thing. Couple that with the fervent bloggers' ability to spread news around that so-and-so is a great and stylish American-made piece and to be able to reach niche audiences like never before and suddenly you've got not only a celebration of "undiscovered" brands, but you've got an audience that can be reached for free.  Plus then you have street style bloggers who are shooting these guys, showing others how it can best be worn.  It's a very interesting time right now if you're interested in style.
SJ
How influential do you feel popular men's style blogs have been in influencing the return of Take Ivy?
WDV
If it wasn't for the blogs – the new media, we wouldn't be sitting here right now.
SJ
Which blogs do you think stand out to you as a leaders in pushing the preppy style and influencing the return of Take Ivy?
WDV
Ivy-Style.com, The Trad (especially), and Prepidemic.com are the three that come to mind as most influential.  Prep is their thing.
SJ
What do you think draws more men to the Take Ivy aesthetic: its implicit exclusivity or its utilitarian simplicity?
WDV
It's no longer exclusive.  What it is, is very simple; and it's timeless.  You can wear prep provided you don't do head to toe, over the top Carlton Banks from Fresh Prince of Bel Air.  But if you mix up checks, plaids, khaki you'll be safe, and most guys like safe.  Unfortunately a lot of guys don't know what size to wear – that is the biggest problem plaguing menswear today, but that's a whole other interview.
SJ
What designers or brands do you feel are leading the modern preppy style movement?
WDV
J.Crew & Band of Outsiders.  I like a lot of these little collaborations like Mark McNairy for Bass, Duckie Brown for Florscheim, Levis & Filson or Levis & Brooks Brothers; Red Wing kind of straddles the line – it's traditional American, but is being enjoyed by the preppy culture.  American Apparel has even been tapping a very preppy look.  And the Gant Rugger stuff Michael Bastian is doing is really strong.
[Note from The Beggar: Michael Bastian does not, in fact, design Gant Rugger — He designs Gant by Michael Bastian. Gant Rugger is designed by Christopher Bastin.]
SJ
Being based in Brooklyn, powerhHouse Books is at the center of the fashion & style universe. Are you seeing a lot of the preppy Ivy style on the streets?
WDV
So much!  All you need to do is look at the resurgence of the Sperry which comes in so many colors now.  And you see guys like Andre 3000 and Pharell Williams putting their own twist on prep and bringing it to the hip hop crowd.  In that department the guys who write Street Etiquette do it really well.
SJ
If you were to go to Princeton or any other Ivy League school today to photograph a new Take Ivy book, do you think you would get the same or at least similar results?
WDV
No. What you'd see at the schools today would be what you see on the streets – it would be mishmash.  You still have a big hip hop influence with baggy pants, caps, and tattoos which has been huge over the last 20 years.  You'd certainly see some prep style because of its recent popularity, but it wouldn't be what it was when the book was originally published. A publisher had the idea to go back and do a new version now, but there's really nothing there.  Should we release a book though in 30 years showing what we look like today, then it would probably work. People always like nostalgia.
Take Ivy is available everywhere August 31, while Partners & Spade presently has an original copy on display.
—
—