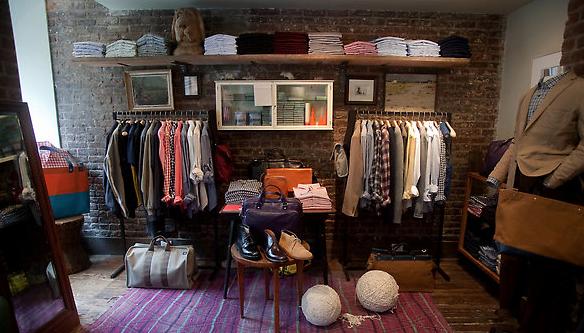 Sure, we're impulsively drawn to Jack Spade's Bleecker Street store like a bee to honey. Rather than its haberdashery-like breadth of colorful, textured offerings, however, John Caramanica suggests the attraction is far more complicated.
Deconstructing the physe of the Jack Spade man in his latest "Critical Shopper" column, Caramanica writes: "Jack Spade is a brand for would-be would-be's, which you wear to let others know that while you don't come from privilege, and you don't wish to appear as if you do, you wish to let people know that you could play the role if you wanted, which you do not." As such, Spade's online shop is presently selling a "Take Ivy Kit" which includes a copy of the recently reissued prep-fashion bible along with a sweatshirt (with silk-screened elbow patches) and a book strap. "A $245 Web exclusive, this, perhaps because it would be too parodic to be seen purchasing it in real life," quips Caramanica. "Sprinkled around the store were fencing masks and taxidermied rodents, relics of someone else's grandfather's life."
The point being made here is that there's quite a bit of artifice and affectation behind preppy "fashion." Of course there is, but one could argue that Prep's most recent manifestation (which Spade seeks to embody) represents a far more modest vision than Caramanica suggests. Organic or not, today's preppy ethos is more closely associated with historical (albeit idealized) American values, simplicity, and manufacturing quality than, say, the decadent champagne wishes and caviar dreams that Ralph Lauren has embodied since the '70s. At the end of the day, it's easy to knock any ideal to which one aspires, and clothes only help with the image one seeks to project. That, however, never stopped anyone from possessing ideals, or, in one way or another, projecting an idealized image of themselves.
—
—