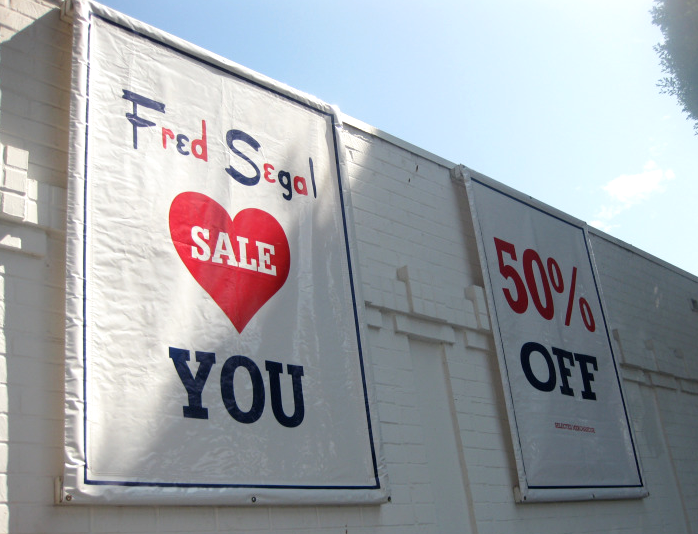 Meanwhile, in Santa Monica… L.A. Correspondent and Hans, Boobie blogger Conroy Gibson just dropped by Fred Segal's 50% off sale.
Perfectling blending Southern California's laid-back and ahead-of-the-pack styles, we couldn't resist when we heard about Fred Segal's 50% off sale. The event goes through Sunday, 10/17, likely with additional markdowns as the sale comes to a close. Wait it out to get the best deals, but wait too long and that shirt you've been drooling over all season will disappear.
At Fred Segal MAN, be prepared to be bombarded with a sea of B. D. Baggies button-downs ($49 – $90), which seem to be bursting from the racks. If that isn't your cup o' tea, you can go for a slim Nom de Guerre ($90) or Patrik Ervell button-down ($120). Nice Collective button-downs ($110 – $120) and shirts by Shipley & Halmos ($90) are also in full effect. Need some pants to go with all the shirts you are picking up? Grab some Our Legacy ($80) or J.W. Brine chinos ($99) to add some casual class to your outfit or go with the never-failing pair of denim from RRL ($115), Stitch's ($140) or Nom De Guerre ($140).
Stock up for a Los Angeles autumn with some lightweight jackets like a Patrik Ervell collegiate ($245) or railroad hickory-stripe jacket ($260). Get that butter-smooth look with a lambskin leather jacket by Nice Collective ($575). Formal event ahead? Top it off with a Robert Geller textured blazer ($445). A heat wave can always sneak up on Angelenos like a thief in the night, so stocking up on t-shirts is always a good idea. From Warriors of Radness ($22) to Rogan ($35) to Ever ($44), you'll have a difficult time finding a tee you don't like. If you feel like punishing your credit card some more, look both ways and cross the street to get to Fred Segal TREND for some killer deals on button-up shirts from the all-American label Gitman Bros. ($73), Engineered Garments ($93), Steven Alan ($80 – $93), Burkman Brothers ($84 – $88) and Coast ($98 – $143).
Warm up with a linen zip sweater from Stone Island ($163), an Andover jacket by Engineered Garments ($163), Burkman Brothers flannel jacket ($123), or Moncler puffer jacket ($305). Outfit your lower half with some jeans by Adriano Goldschmied ($118 – $128) or some utility pants and chinos by Mason's ($83 – $128). Get your Comme de Garcons fix with a sweater ($263), blazer ($398), or an extremely unique button-down shirt ($133 – $363), done with typical CdG flair. Want to impress the bros at the paint-balling field? Throw on some Golden Goose camo ($173) or olive drab shorts by Burkman Brothers ($85) and turn a war zone into a fashion show. Finally, get your grown man on with a world-class shirt by Michael Bastian ($178 – $213).
Fred Segal – 420 & 500 Broadway, Santa Monica  – Mon-Sat 10am-7pm Sun 12pm-6pm – 310-394-1875 – Map
—
—