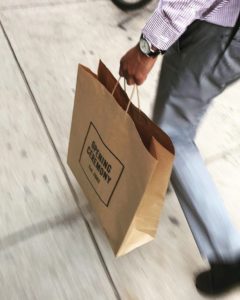 What is a sample sale?
If you follow The Choosy Beggar, this shouldn't even be a question. But if you're new to the scene or just never knew the background, we'll take a step back to explain.
Definition
At its core, a sample sale is where brands sell their trial-run clothing (i.e. samples and prototypes) to consumers for a very limited time. However, this has expanded to include overstock and past season merchandise that has been marked-down to production costs or lower. Now, "warehouse sales," "blowout sales," "end of season sales," are often referred to as sample sales. They all offer huge discounts on traditional retail costs.
Why do they exist?
There are many items that brands create which can't be sold in retail stores. This includes test items, clothing used for fashions shows or photoshoots, slightly damaged or irregular merchandise, returned purchases and more. Instead of throwing them away, they are sold at heavily discounted rates.
Who has them?
At least one of your favorite brands has had a sample sale in the past year. They range from luxury (Gucci, Hermes) to streetwear (Hood by Air, Carhartt WIP), retail stores (Opening Ceremony, Barneys) to e-commerce platforms (Gilt, Bonobos).
Sample sales are hosted by brands, stores, showrooms, or third-party organizations. You may have seen or heard of companies like 260 Sample Sale, Soiffer Haskins, Prive and Clothingline, which work directly with clothing brands to bring in merchandise and coordinate sales in their own consistent locations.
An alternative to sample sales is sending clothing to off-price retailers like Marshall's and TJ Maxx. Many luxury companies prefer the exclusivity and control of hosting their own sample sales to recoup costs without affecting the brand prestige.
Pricing
Sample sale pricing is normally 60-80% off retail costs. However, we've seen companies disguise offers of 30% off as a sample sale or some reduce prices as low as 95%.  
Sizing
True sample sales are typically medium shirts, 32 pants, and 9-11 shoes. But with access to my overstock and unsold merchandise, many sales have a full run of sizes.
Timing
April-May and October-November are the busiest months, while January and July are often the slowest. Sample sale frequency varies for each brand, but many are annual or biannual. Some host "pop-up" sales whenever there's a need. This could mean a few months or a few years between sample sales. However, once one begins, it generally only last two to seven days.
Location
With New York as a world fashion capital, a large majority of U.S. sample sales happen here.
Most are found in Manhattan, split between midtown and downtown—with few in Brooklyn and other boroughs. Other popular cities include Los Angeles, San Francisco, London, and Paris.
What are the Downsides?
Season by season, sales can have a very different product range, size selection, and pricing. For the most sought after brands, you may have to wait in line to get inside. Once you make a purchase, there are no returns. And depending on the location, there may or may not be fitting rooms. You never know what you may find, which creates the thrill and sometimes frustration.
Why anyone would want to go?
Price, quality and exclusivity are what keep shoppers coming back. With prices of designer clothing marked down around 70%, they make access to luxury items attainable. There are also some one-of-a-kind pieces or special collections that never hit stores available at the sales.
If you live in NY, they're also more convenient and accessible than you may realize. Most are open to the public and often centrally located. During busy times, in a stroll through SoHo you can hit 4-5 sample sales in a day.
Lastly, there's something for everyone. Whether it's a coat or a pair of shoes, accessories or homeware, there's a range of options. So regardless of size, budget or brand knowledge, you can find your niche and win.